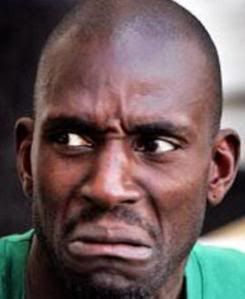 OK, OK, I knew it was going to be bad because on the front page I read
"--or will the loss of Jonathan Ogden make the team even worse?"
You always do that Walter, stop spoiling everything on the front page. If I read, "Will Tim Tebow be the #1 overall pick?" 9/10 times he's the #1 pick.
I open it up and the first thing I notice is that you have Xavier Lee as a veteran addition. Undrafted Florida State QBs converted to TEs that just got cut are the polar opposite of veteran additions.
Kyle Boller jokes, blah, blah, I'm just glad it doesn't involve him eating at buffets. Stuff about Joe Flacco that completely ignores that Kyle Boller was a Jeff Tedford QB who was developed by Brian Billick.
OK, so you mention Jared Gaither while hinting that the Ravens don't have complete faith in him because they drafted Oniel Cousins in the 3rd (shows up in draft comments too). Oniel Cousins is the definition of a super aggressive right tackle. You're the only guy I know who thinks he could be a left tackle.
It's easy to ignore Demetrius Williams seeing as how he was injured all of last year, but he is going to have a breakout season and it's very common knowledge he'll win the #2 receiving spot at worst.
What you first off fail to mention with the Baltimore defense is that the average starting spot for the opposition's offense was very close to the 50 yard line. It's true, look it up. No one ever really mentions how conservative the D had to play without McAlister and Rolle. You can't really blitz, cuz David Pittman will get burned in a Nano-second so you have to play the "Speed" package all day. C-Mac is healthy now (and no I don't consider 31 years of age archaic) so they will be allowed to use their exotic blitzes. If you doubt Rex Ryan, you are going to look like a fool Walter. So keeping that in mind, most of the defensive analysis is asinine.
Age is irrelevant. I don't care if Kelly Gregg is 55 years old, it's irrelevant as long as the Ravens have the best run defense and he continues to get 80 tackles a year. I don't know what the problem with Trevor Pryce is either, most of his game is predicated on his strength.
McAlister is still a premier corner and I dare anyone to throw to his side. I don't know why you would mention Antwan Barnes. He raped Matt Light, but big deal he's a one-dimensional pass rusher who isn't going to replace Jarret Johnson. Third downs? Yes. First and Second? No.
You star ratings are an absolute atrocity. I'm comfortable with the offensive star except for QB because it's so hard to get 5 stars, but so incredibly easy to get a 1 star. But my god, the defensive ratings make absolutely no sense. You gave the Browns more stars on the defensive line. That is ridiculous, they have the best run-stopper in the league with Haloti Ngata, you got Trevor Pryce who is a top 5 LE and can generate a pass-rush in a 3-4 defense. Kelly Gregg is the most productive NT in the league. THEY JUST HAD THE #2 RUN DEFENSE! WHAT MORE DO YOU WANT FROM THEM! SHELL OUT A ****ING 4 STAR. I don't care about the LBs, you have this "old" thing stuck in your head.
Best free safety in the league, bar none (In before Matt with Tanard Jackson) + No one throwing at Chris McAlister's side and you complimenting Dawan Landry = 2 STARS?!? ARRRGGGGHHHHH!
Other than that, I love reading these previews, even though they seem to refuse thinking outside the box. Obviously my Ravens bias made me feel this way but I don't know how anyone could ignore these god awful ratings.