So a couple of you guys mentioned how you loved mythology, and liked how I presented it, so I decided I would make a little nook for the tales of heroism, murder, rape, and other things the ancient world used to try to describe their world around them. The first post I made on the subject was
about Odysseus and his travels.
The second was about
Daedalus the craftsman.
But Greek isn't my favorite branch of mythology. For the first official post I bring a long, but popular Norse tale from the
Prose Edda
featuring everyone's favorite Norse fratboy, Thor.
Don't you wish you were this sexy?
So Thor, Loki (before he went full evil), and Thor's houscarl Thalfi (think Lidya from Skyrim) were adventuring in Midgard (land of you, me, and all the other jerkoffs). Night was falling fast, and the weather was getting rough, so they had Thalfi run around and find some shelter. Thalfi found a gigantic cave to sleep in, which had five branches going even deeper.
That morning, they wake up to an earthquake and find they weren't in a cave, but the glove of a giant named Skrymir, who happened to be sleeping nearby. Now Thor was a mighty manly god, but he had never seen a giant as big as Skrymir, who introduced himself as a dwarf among his people. Thor was intrigued, and wanted to meet their lord. Skrymir, being a bro, offered to carry all of their bags during the travels, and the trio of adventurers let him. That night, Skrymir gave them back their bags, but decided to be a dick, and tie their bags closed with a ****ing
Gordian knot.
Suffice to say, Thor wasn't very Alexander. Instead, he got hungry and pissed, so while Skrymir was sleeping, Thor grabbed his legendary hammer, Mjollnir, and climbed up between Skrymir's eyebrows and laid waste with his patented Giant Killing Murderstrike. Astonishingly, Skrymir wasn't dead, but woke up and dickishly asked if a leaf fell on his nose. Then was like "Oh, hey, Thor! I didn't see you there, you should get something to eat, bro." Thor, confused, went back to his friends, trying to figure out why Mjollnir didn't smite the giant with much smitery.
A little later, the gods couldn't sleep because some as
s
hole giant was snoring up a storm. Thor figured he could try using Mjollnir again to stop the giant's snoring permanently. He smote the giant's head with a fierce double handed strike, which caved the giant's head in so far, he could feel Mjollnir tickling giant neurons. But after he pulled Mjollnir out of the giant's frontal lobe, Skrymir sat up, asking if an acorn had fallen on his head. Thor, still mind-****ed by his failure to do the one thing he was born to do, lied, and said something had woken him up too.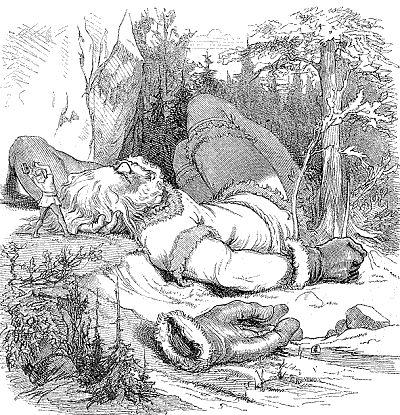 Why can't I kill this jackass?
When Skrymir fell asleep again, Thor decided he would try one more time. He smashed the giant's head in so hard that Mjollnir's handle sunk well into the giant's brain, cracking the rock below the giant's skull. But Skrymir woke up, saw Thor standing slack jawed, and asked "dude, did a bird just **** on my face? I swear I felt something." Thor had no clue what to do.
Much to Thor's alleviation, they arrived at castle Utgard the next day. A giant castle, even by giant standards, so tall they couldn't see where the walls ended from the ground. Skrymir tole them to just go in, but not to brag about crap they couldn't back up. The lord of Utgard was a jotunn named Loki (not the god, it's just that Snorri Sturluson had no imagination for names) who invited the three in, but said they could only stay if they could prove they were the best at something.
Loki steps forward and tells Utgard-Loki (that's how we keep them straight) that nobody can eat faster than him. So Utgard-Loki sets up a challenge. A large table was set, with Loki on one side, and a giant named Logi placed on the other. At the whistle, they started scarfing food as fast as they could in a disgusting display of Kobayashi-ness. Amazingly, they met in the exact middle of the table, but Loki didn't eat everything like Logi did... being the bones, cups, plates, chairs, and even the damned table. Loki may have gotten a full belly, but had his pride damaged.
Thalfi steps up next, and says nobody runs faster than him. So Utgard-Loki set him up to race a guy named Hugi. In three races, Thalfi kept losing worse and worse until he wasn't even half way done with the third race by the time Hugi finished. Embarassing.
Utgard-Loki had heard of Thor's exploits, and eagerly awaited to challenge him. Thor, being a legendary frat bro, boasted to be the best drinker in the nine realms. Excited, Utgard-Loki brought out a gigantic ram's horn filled with mead and told him that a good drinker could shotgun it in one go. A lightweight could do it in two swigs, but nobody was pussy enough to need three. So Thor took it and drank. And drank. And drank. When he came up for air, he noticed that the mead only fell a little bit. Pissed, he took a second swig, and didn't come up for air until he was blue in the face. It wasn't even half empty. A third swallow, but there was no emptying this massive cup.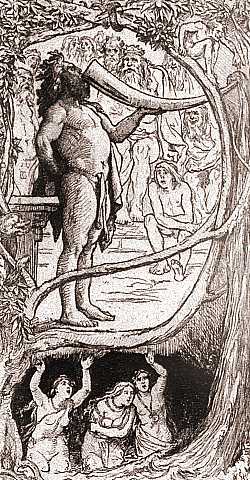 Even the Norns be like CHUG!! CHUG!!! CHUG!!!
Utgard-Loki, being a dick, offers to allow Thor to try to pick up his cat, something which he challenges the jotunn children to do. Thor, drunk off his ass, agrees, yelling "I'LL SNATCH YER PUSSY FOR YOU!" A massive cat jumps off of Utgard-Loki's throne and Thor grabs the beast's chest, as if to do a feline assisted clean and jerk. As he lifts, the cat just arches it's back, but doesn't lift off the ground. In a fury, Thor lifts harder, and harder, until a single paw is lifted off of the ground.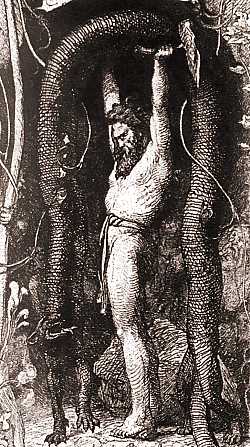 Damn, that's one big pussy
Utgard-Loki laughs, because Thor is so small and puny, he can barely lift a cat. Thor, getting his hate-boner half turgid, says "FIGHT ME IRL DOUCHE
F
AG" but Utgard-Loki dismisses the thought, and offers him to wrestle with an old haggard giantess named Elli, who had been Utgard-Loki's wet nurse (for those of you who haven't read GoT, that's a woman who breastfeeds a noble child to save the quality of the royal tits)
Thor, happy to fight anyone, starts to wrestle with Elli, but soon finds that he overestimated the old crone. She was fighting back with a fierceness he never expected. He clashes with the giantess for a few hours, but finally is thrown to his knees. Broken, drunk, and exhausted, Thor sits down and admits he's not the most awesome Bro at everything. Utgard-Loki, taking a little pity on them, offers to let them feast, and stay there for the night.
Thor, god of Thunder, cower before the saggy, wrinkly tits of your defeat
Thor, Loki, and Thalfi wake up early, and start making their way out, when Utgard-Loki offers to escort them out of the castle. Thor is crestfallen, trying to understand why his godly awesomeness didn't prevail in anything. Once out of the castle, and well away from the gates, Utgard-Loki comes clean.
"Bros," he started, "I apologize for testing you, but I needed to know how strong you gods truly are. Thor, if you look along where you traveled here, you will find three massive craters where I had tricked you into thinking I was when you tried to kill me." (Skrymir means "big-looking" and was Utgard-Loki in disguise)
"Loki, your capacity for food is amazing, but you cannot eat as fast as
logi
, or a wildfire. You can eat food, but fire consumes all.
"Thalfi, you are swift, but no man is as swift as
hugi
or thought. You could not hope to race as fast as my mind. (Side note, one of Odin's ravens is named Huginn, for thought. Muninn, or memory, is his counterpart)
"And Thor, if I had known you were as strong and fierce as you are, I would have never allowed you into my home. The horn you drank from drained the ocean. Go there, see how the tides have been lowered by your thirst. My cat was not a cat at all, but
J?rmangandr
the Midgard serpent. (The continents are it's scales, and it wraps itself around midgard, with it's tail in it's teeth as it sleeps. When it awakes for Ragnar?k, Midgard will be destroyed, then it and Thor will finish each other in mortal kombat)
And most impressively, your extended battle with
Elli
(old age) was incredible, but no one, giant or god can truly withstand time itself. I may have used tricks to learn your strength, but now I shall use them so you can never harm Utgard with your rage."
Thor, being a god of very little brain, was ripsh
i
t pissed, and swung Mjollnir with murder in his eyes at Utgard-Loki's head, but the giant and his castle disappeared as if only an illusion.
For a long time, Thor wasn't able to live down his embarrassment of not being able to grasp that the challenges they faced were mostly named after what they actually were.
If you guys want more mythology, lemme know, or just let this thread die. IDGAF.