Why was Achilles so important?
Sing, Goddess, of the wrath of Peleus' son Achilles,
the accursed rage which brought great suffering the the Achaeans
~Homer,
Iliad
opening lines
I will never not envy Brad Pitt's jawline.
I mentioned how the marriage of Achilles' parents was kind of a big deal? Well this is why. Achilles' mommy was a super hot, shapeshifting water nymph/goddess named Thetis, and all the gods were jerkin their gerkin hoping to put a baby in her oven... until Zeus discovered a prophecy. Thetis' son would be supremely greater than the father, which was the first time Zeus' boner ever was too afraid to get the job done. If you remember, Zeus killed his daddy Kronos to usurp power for the New Gods over the Titans, and didn't want the same thing to happen to him. In fact, it had been a ploy by Hera, Athena, and Poseidon to overthrow Zeus, because let's face it, he's kind of a dick.
Well Zeus, knowing that Thetis' status as a water nymph means she's in Poseidon's territory, goes to his brother and asks him to help find Thetis a mortal husband so that their son is still mortal. Poseidon agrees, because what choice has he, and they determine a hero named Peleus is an acceptable husband. After a
Taming of the Shrew
type courtship where Peleus bound Thetis in seaweed to prevent her from shapeshifting, and then literally hold her down for hours until her spirit broke, they were wed, and the gods threw a party. Achilles was born soon after.
It's kinda like baby baptism, but different. Instead of saving your soul, it makes you invulnerable. But uses the souls of the damned instead of water, so tradeoff.
Thetis, desiring to make her mortal son immortal, dips him into the river styx, but holds onto one heel, which prevents him from becoming completely submerged, and leaving him one weak spot that can still be wounded. I'M sure it won't be a problem in the future. It's fine. Peleus, though, demands that his nigh invulnerable son still gets the best education in the world, and takes Achilles to Chiron, the centaur, for tutelage.
You may not know Chiron very well. That's okay. He was a son of Kronos, and a gifted expert in art, poetry, medicine, war, music, and minor electives. But I guarantee that you have heard of at least some of Chiron's students and their accomplishments... here is a short list:
~ Peleus, Achilles' father. Okay that's cheating because I mentioned him already.
~ Hercules, the mightiest of Heroes, who went on 12 Labors and numerous other adventures.
~ Perseus, who slew the Medusa, and rode upon Pegasus.
~ Ajax the Greater, a major hero in the Trojan War.
~ Theseus, the hero who slew the minotaur and liked to play with balls of yarn.
~ Patrocles, a hero of the Trojan War who was Achilles' #1 lover and butt buddy.
~ Jason, Captain of the Argos, and leader of the Argonauts, who recovered the Golden Fleece.
~ Asclepius, the first true healer, whose
snake wrapped cane
is still a universal symbol for healing.
And that's just the tip of the iceberg. Seriously, every demi-god and important hero learned from Chiron.
Dammit Achilles, can't you play anything besides Wonderwall?
Oh, and don't look behind you, your parents are having sex again.
After Paris stole Helen from Menelaus, it gave Agamemnon a reason to declare war on the Trojans, and get all the dispersed Greek City-State armies together for a big party. He knew if he knocked out the Trojans, then the Greeks would be the only power in the Mediterranean Sea. The only snag was that Agamemnon heard a prophecy that he could not win the war without Achilles. At the same time, Thetis heard a prophecy from an oracle that if Achilles would go to Troy, he would die, so she tried to hide Achilles from the Greeks by sending him to a friend named Lycomedes, who disguised Achilles as one of his daughters.
Yes. Mighty Achilles, Badass of Badasses.... hiding from going to war by dressing like a pretty pretty princess and knitting the day away. Unfortunately, Agamemnon sends the smartest person he knows, Odysseus, to find Achilles. Odysseus finds Achilles, but Achilles won't give up the act, and continues to prance around in a lacy dress. Odysseus, fed up with this sh*t, decides to force Achilles' hand publicly. In the court of Lycomedes, Odysseus draws his sword and commands a slaughter. Achilles acts on instinct learned from Chiron and draws a sword to respond, while all of the other daughters of Lycomedes flee. Odysseus points to Achilles, says "That b*tch has just been drafted." And does history's first mic drop.
Odysseus continues winning the "outsmarting dumbasses" award.
Achilles is the main character of the Iliad, but for a long time there is very little he does, but that's part of the reason of the story. See, Homer was interested in showing the contrast between human desires and Fate. Fate demanded that Achilles goes to Troy, gains victory, but dies. Achilles did everything he could to avoid going to war, then sat on his hands for 10 years to avoid fate. Ultimately, with the death of Patrocles, his #1 Favorite Ass in Asia Minor, he picks up the sword, wins the war within a few weeks, and promptly is killed in the final days. It is implied that even if Achilles had never gone to war, he still would have inevitably been drawn to Troy, and to his death.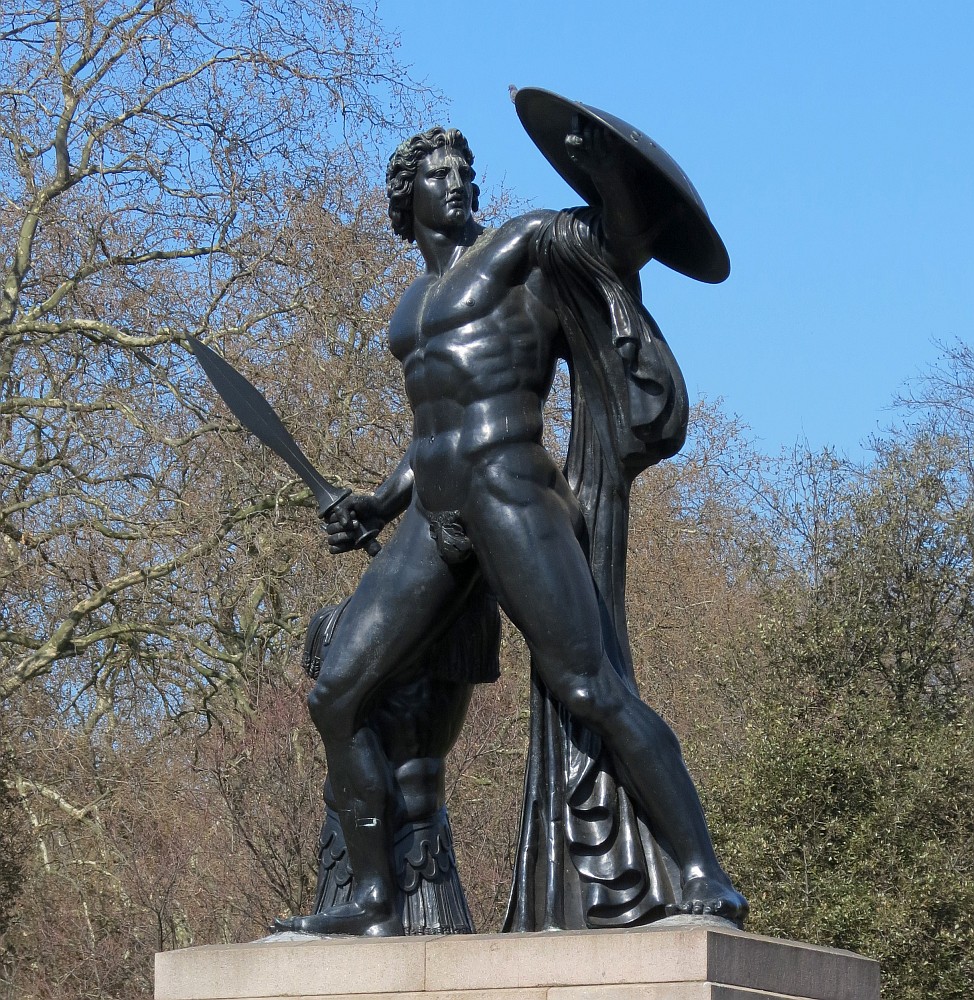 Achilles, the nearly invulnerable man who was destined to be a badass, and trained by the greatest badass coach.... yet did everything he could to avoid becoming a badass.